​Word Counter
About Word Counter Tool
The Word Counter Tool is a simple and efficient online utility that helps you analyze the text by providing various statistics and metrics. Whether you are a writer, student, or content creator, this tool can assist you in measuring the length and complexity of your text.
​
How to Use
Input Text:

Paste or type your text in the provided textarea. You can include multiple paragraphs or sentences.

Analyze Text:

Click the "Analyze Text" button, and the tool will instantly calculate and display the following metrics:

Word Count:

Total number of words in the text.

Character Count (with spaces):

Total number of characters, including spaces.

Character Count (without spaces):

Total number of characters, excluding spaces.

Sentence Count:

Total number of sentences in the text.

Paragraph Count:

Total number of paragraphs in the text.

Reading Time:

Estimated time required to read the text at an average reading speed of 275 words per minute.

Speaking Time:

Estimated time required to speak the text at an average speaking speed of 180 words per minute.
Why Use the Word Counter Tool?
Word Count Analysis:

 Determine the length and structure of your text by counting the number of words, characters, sentences, and paragraphs.

Time Estimation:

 Get an estimate of how long it would take to read or speak the text, allowing you to plan accordingly.

Writing and Editing:

 Use the metrics provided to improve the readability and clarity of your content.

Research and Study:

 Analyze the length and complexity of academic papers, articles, or any written material.

​The Word Counter Tool is a convenient solution for anyone who needs to quickly assess the statistics of their text. Try it out now and enhance your writing process!
The Importance of Word Count
Word count plays a vital role in writing and communication, influencing how we convey information and engage with our audience. Whether you're a student, a professional writer, a content creator, or simply someone crafting a message, understanding the importance of word count is crucial. In this comprehensive article, we will explore why word count matters, the benefits of using a word counter tool, the significance of word count in different scenarios, effective word count strategies and techniques, common myths and misconceptions, and how word count is relevant in popular applications and books.
Why Word Count Matters
Word count holds several key implications that directly impact the effectiveness of your writing. Firstly, it helps in meeting specific requirements set by instructors, publishers, or content platforms. For example, a university essay may have a word limit of 1500 words, which requires you to express your ideas concisely within that constraint. Meeting such requirements showcases your ability to follow instructions and effectively communicate within given parameters. On the other hand, exceeding word limits can result in penalties or rejection of your work.
Benefits of Using a Word Counter Tool
Using a word counter tool provides numerous advantages for writers and content creators. Firstly, it ensures accurate and efficient word counting. Instead of manually counting words, a word counter tool automates the process, saving time and minimizing errors. For example, tools like Word Counter Plus and Online Character Counter provide real-time word count as you type, eliminating the need for manual counting. Additionally, word counter tools often track other important textual metrics, such as character count, paragraph count, and reading time. These metrics offer valuable insights into the structure and readability of your content.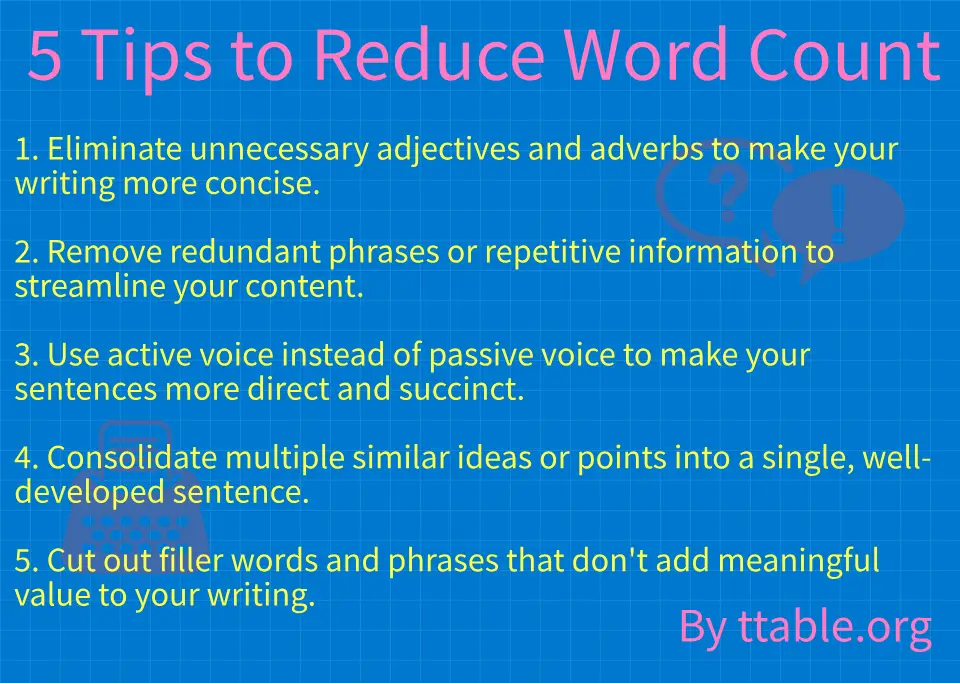 Importance of Word Count in Different Scenarios
Word count holds significance across various contexts. In academic and educational settings, word count requirements shape assignments and assessments. Adhering to these requirements demonstrates your ability to express ideas concisely and effectively. For instance, in a research paper, meeting the word count requirement ensures that you provide a comprehensive analysis of the topic while staying within the expected length. In content creation and online publishing, word count determines the optimal length for blog posts, articles, and social media updates. It influences search engine optimization (SEO) efforts, as search engines consider word count when determining the relevance and authority of a piece of content.
Word Count Strategies and Techniques
Crafting content within a specified word count can be a challenge. However, implementing effective strategies and techniques can help you navigate this task successfully. When you need to expand content to meet a word count requirement, consider conducting further research, incorporating additional examples or case studies, or exploring alternative perspectives. For example, if you're writing an essay on climate change and need to reach the word count, you can include more in-depth analysis of specific environmental policies or discuss the impact of climate change on different regions. On the other hand, when you need to reduce word count, focus on concise and precise language, eliminating unnecessary adjectives and adverbs, and utilizing active voice.

Here's an example:
Original sentence: "The beautiful and serene sunset slowly sank below the horizon, painting the sky with vibrant hues of orange and pink."
Reduced sentence: "The sunset sank below the horizon, painting the sky with orange and pink hues."
By removing unnecessary descriptors and adopting a more straightforward writing style, the sentence is concise while retaining its essence.
Word Count Myths and Misconceptions
Several myths and misconceptions surround word count, leading to confusion and misunderstandings. One common misconception is that longer content always equals higher quality. While comprehensive and detailed content is often valuable, the quality lies in the relevance, clarity, and depth of the information presented, rather than the sheer word count. Another myth is that shorter content is always more engaging. While brevity can enhance readability, the engagement level depends on the relevance, coherence, and overall quality of the content. Understanding these myths helps writers make informed decisions and focus on producing impactful content rather than obsessing over word count alone.
Word Counter in Applications: Word, PowerPoint, Excel, Google Docs, and PDF
Word count functionality is available in various applications, enhancing the writing and content management experience. In Microsoft Word, word count can be easily accessed in the status bar or through the Review tab. For example, in a Word document, you can go to the "Review" tab, click on "Word Count," and a dialog box will display the word count, character count, and other metrics. PowerPoint also provides word count for individual slides, allowing presenters to gauge the length of their content. In Excel, tracking word count is useful when managing content-heavy spreadsheets containing textual data. Google Docs offers a built-in word count tool, facilitating collaborative writing and content management. Additionally, word count is relevant when working with PDF documents, as it helps gauge the length and scope of the content, ensuring it fits within specified requirements.
Word Count of Popular Books
Analyzing the word count of popular books offers insights into word count conventions and expectations within different genres. While word counts can vary widely, understanding the typical ranges can help writers and publishers set appropriate goals. For instance, J.R.R. Tolkien's "The Lord of the Rings" has a word count of approximately 481,000 words, showcasing the extensive world-building and intricate storytelling within the fantasy genre. In contrast, J.K. Rowling's "Harry Potter and the Sorcerer's Stone" has a word count of around 76,000 words, highlighting the concise and fast-paced nature of young adult literature. Analyzing word counts in best-selling books provides valuable benchmarks and showcases the varying approaches authors take when it comes to the length and depth of their works.

To wrap up, word count plays a crucial role in effective communication, meeting specific requirements, and maintaining reader engagement. Utilizing word counter tools, understanding the importance of word count in various scenarios, implementing effective strategies, and debunking common myths contribute to your growth as a writer. Furthermore, word count's relevance extends to popular applications and the analysis of word counts in books. By appreciating the significance of word count and harnessing its power, you can enhance your writing and make a more profound impact on your audience.